Investing in massage is an great investment in your health.
Call today: 413-219-4418
I offer a one hour massage at a great price, you will be relaxed, and you will want to come back for another.
For those with limited time, I also offer chair massage:
$1.00 a minute
(this could range from 5 minutes to 30 minutes)
Prices :
Swedish Massage~Most popular:
1/2 hr. $50.00
1 hr. $80.00
90 min. $110.00

Add Aromatherapy for $10.00 more
Add 1/2 hr. Hand Reflexology for $20.00 more
Deep Tissue:
1/2 hr. $50.00
1 hr. $85.00
Mu-Xing Therapy:(Bamboo & Rosewood Massage):
1 hr. $120.00
90 min. $160.00
Hot Stone Massage:
1 hr. $120.00
90 min. $160.00
Gua Sha Therapy/scraping:
1 hr. $120.00
90 min, $160.00
Energy Work:
1/2 hr. $50.00
1 hr. $75.00
90 min. $110.00
Reflexology:
1/2 hr. hands $50.00
1/2 hr. feet $70.00
Add 30 minute hand reflexology to massage for $25.00 more
Ayurvedic Indian Head Massage
Paraffin Treatment:
Hands $15.00
Feet $25.00
Both hands & feet $50.00
Add Paraffin Hand Treatment with a session for $10.00 more
Limited time? I also offer Chair massage for $1.00 a min 5 minutes min to 30 minutes max, Other times can be discussed
PetMassage, and Energy work with Dogs:
1 hr.~ $75.00 max (also depends on how your dog reacts to the Energy, some like it and some don't, special paperwork needs to be filled out to insure safety of all)
Mini-Spa Session: ~~~~~~~~~~~~~~~~~ $185.00
90 minutes Includes the following; 60 min. Swedish Massage, with Aromatherapy for relaxation,
1/2 hr. Foot Reflexology session.
Package Rates: (Swedish Massage)
Available, ask for details

*~ Special rates for Military, Police, and Fire ~*
*Discount Rates for referrals, as well as your birthday*
Ask About Our Healthy Rewards Program
Accepting Credit Cards For Your Convenience

.
There are a variety of different styles, types and techniques of massage utilized by massage therapists. I have provided a description of some of the more popular and well known types of massage being used today listed below:

Auth Method/Forearm Dance Massage
Auth Method is a bodywork form that applies therapeutic pressure using forearms! Helps to promote health and well being. Although the main technique is the upper Forearm, elbows, palms, and fingers, will be incorporated where necessary and appropriate. By working with the forearms, I work my way through your tight muscles layer by layer. The work is effective therapeutically and clients will often feel the work deeply in their muscles. Auth Method can also be used with light pressure.
Swedish Massage
~most popular
Swedish massage uses five styles of long, flowing strokes to massage. The five basic strokes are effleurage (sliding or gliding), petrissage (kneading), tapotement (rhythmic tapping), friction (cross fiber) and vibration/shaking. Swedish massage has shown to be helpful in reducing pain, joint stiffness, and improving function in patients with osteoarthritis of the knee over a period of eight weeks. It has also been shown to be helpful in individuals with poor circulation. The development of Swedish massage is credited to Per Henrik Ling, though the Dutch practitioner Johan Georg Mezger adopted the French names to denote the basic strokes. The term "Swedish" massage is not really known in the country of Sweden, where it is called "classic massage"
Ayurvedic Indian Head Massage
Classic Indian head massage is performed with the client dressed, comfortably seated, and the therapist standing—although some U.S. spas have transitioned the treatment to a massage table. It can include a custom blend of essential oils or herbs for aromatherapy as part of the treatment, but does not always have to do so. Beginning with breath, the therapist will place hands on the client's shoulders and ask her/him take a few slow, deep breaths to get calm and centered.Starting with the neck and shoulders, the therapist works the marma points along the trapezius, levator scapula, scalenes and other muscles using a variety of thumb-walking, palm circles, finger pressure and sweeps, petrissage and kneading techniques. Everything is done with the intention of releasing trapped energy or tension, and can have a variety of pace and pressure.
Deep Tissue massage is designed to relieve severe tension in the muscle and the connective tissue or fascia. This type of massage focuses on the muscles located below the surface of the top muscles. Deep tissue massage is often recommended for individuals who experience consistent pain, are involved in heavy physical activity, such as athletes, and patients who have sustained physical injury. It is also not uncommon for receivers of Deep Tissue Massage to have their pain replaced with a new muscle ache for a day or two. Deep tissue work varies greatly. What one calls deep tissue another will call light. When receiving deep tissue work it is important to communicate what you are feeling.
Mu-Xing Therapy: (Hot Bamboo & Rosewood Massage)
Mu~means wood Xing~means Element (pronounced moo zing)
This is a treatment that incorporates a variety of massage strokes designed to address your muscle tissue; this is a deep tissue massage. Helps promote a overall wellbeing & relaxation, With Mu-Xing I will use heated Bamboo & Rosewood, which is created from the purest form of wood, with a custom blended oil.
Gua Sha (pronounced Gwa Sha)
A brief history: in Chinese Gua means to scrape or rub, and Sha represents the toxic energy that is released when the technique causes blood to flush to the surface of the skin, making red splotchy marks (called

petechiae

) that may last several days. Gua Sha should not be done hard as to cut the skin of the client or release body fluid. This is a light pressure technique that brings blood to the surface as energy is released,
There are many great uses for this therapy:
Colds, Flu, Fever, & Cough.

Neck, Back, & Shoulder Pain
It's not the red from regular massages you see, but you would see actual red spots emerge.
Ref: The Big "Little" Gua Sha Book
by Leta Herman & Jaye McElroy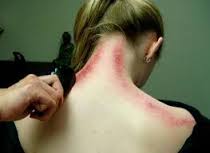 Chair Massage
In-office massage has become very popular for its portability and its capacity to offer a therapeutic benefit to a large number of people in a short period of time. Clients remain clothed keeping turn-around times short and helping to create a comfortable environment. Receiving just five or ten minutes of chair massage has been found to be effective for relief of aches and pains and reduction of stress.
Prenatal massage is similar to massage during non-pregnancy in terms of the goals (relaxation, pain relief, increased circulation & mobility, etc.). However, due to the changes undergone during pregnancy, modification are made. To accommodate swollen tender breasts and a growing belly, special pillows, positioning and techniques are utilized to ensure comfort for both the expecting mother and baby. With increasing weight, a changing center of gravity and the many other changes associated with pregnancy, prenatal massage can help provide relief and a sense of well being that is much deserved. After your bundle of joy arrives post-natal massage may help, this can nurture and comfort those "baby" blues you may be experiencing.
Stone massage uses cold or water-heated stones to apply pressure and heat to the body. Stones coated in oil can also be used by the therapist delivering various massaging strokes. The hot stones used are commonly river stones which over time, have become extremely polished and smooth. As the stones are placed along the recipient's back, they help to retain heat which then deeply penetrates into the muscles, releasing tension.
Trigger points or trigger sites are described as hyperirritable spots in skeletal muscle that are associated with palpable nodules in taut bands of muscle fibers. Trigger point practitioners believe that palpable nodules are small contraction knots[ambiguous] and a common cause of pain. Compression of a trigger point may elicit local tenderness, referred pain, or local twitch response. The local twitch response is not the same as a muscle spasm. This is because a muscle spasm refers to the entire muscle entirely contracting whereas the local twitch response also refers to the entire muscle but only involves a small twitch, no contraction. The trigger point model states that unexplained pain frequently radiates from these points of local tenderness to broader areas, sometimes distant from the trigger point itself. Practitioners claim to have identified reliable referred pain patterns, allowing practitioners to associate pain in one location with trigger points elsewhere.
Myofascial release is a form of soft tissue therapy used to treat somatic dysfunction and accompanying pain and restriction of motion. This is accomplished by relaxing contracted muscles, increasing circulation, increasing venous and lymphatic drainage, and stimulating the stretch reflex of muscles and overlying fascia.
Uses the power of imagination to evoke positive images to stimulate healing. involvement includes thinking in pictures. Helps with anxiety, stress reduction and relaxation. The client listens as the massage therapist guides them on a sensory and tactile journey of a place where you feel the most relaxed. This may be very brief to help prepare you for your massage. Guided Imagery is the use of one's imagination to create healing mental images that involve all of your senses. May not work for everyone.
Massaging with crystals combines the relaxing benefits of massage with the healing vibrations of crystals and can give an experience that relaxes and balances the whole body. Crystal massage can be performed on yourself or on another person or animal.
Sports massage is actually a form of Swedish massage that is delivered to athletes. Most commonly, sports massage focuses on increasing blood and lymphatic fluid flow, reducing and eliminating pain as well as tender trigger points, and increasing range of motion of the affected area. Sports massages can be broken into 4 distinct types - the pre-event sports massage, the post-event sports massage, the restorative sports massage and the rehabilitative sports massage. As the names indicate, each type of sports massage has a different focus for the athlete as they are delivered at different times during their training and performance schedule.
Ayurveda states that a balance of the three elemental substances, the Doshas, equals health, while imbalance equals disease. There are three doshas: Vata, Pitta and Kapha. One Ayurvedic theory states that each human possesses a unique combination of these doshas which define this person's temperament and characteristics. Each person has a natural state, or natural combination of these three elements, and should seek balance by modulating their behavior or environment. In this way they can increase or decrease the doshas they lack or have an abundance of them respectively. Another view present in the ancient literature states that dosha equality is identical to health, and that persons with imbalance of dosha are proportionately unhealthy, because they are not in their natural state of balance.Prakriti is one of the most important concepts in Ayurveda.
Ashiatsu/Barefeet Massage
What is Ashiatsu?
Ashiatsu is a bodywork form that applies therapeutic pressure using barefeet! Helps to promote health and well being. Although "Ashiatsu" literally means foot (ashi) pressure (atsu) in Japanese, ashiatsu techniques also make use of knees, elbows, palms, and fingers where necessary and appropriate. (At this time I do Ashiatsu while sitting, I will be working shoulders and back only, until further training) By working with the feet, The work is effective therapeutically and clients will often feel the work deeply in their muscles, internal organs, and bones.